---
Good day, wonderful person!  As a part of my job, I've been researching quality international literature.  This is probably the most fun thing I've ever been paid to do - I love it so much!  Consequently, I purchased ~200 books originally published outside of the US and Great Britain, mostly in languages other than English.  Not for me, not with my money.  I cannot even tell you the pleasure I felt as they began to arrive a few months ago.  I wanted to throw them up around me like Scrooge McDuck.  And the covers are amazing!  Really.  If you ever get the opportunity to be a book buyer, or a collections librarian, I highly recommend it.  It's very satisfying.
So, after these books began to arrive and get processed, I read a couple of them.  I had a lot on my plate, reading-wise, so I only checked out 2, which was a helluva difficult decision.  The two I picked absolutely slayed me.
GIRLS OF RIYADH
This book is awesome.  It's such a quick read, not because it's light & fluffy, but because it's so gripping and real!  The conceit of this book is that a young woman in Riyadh, Saudi Arabia, has formed a yahoo group (this takes place in the early 2000s, so it makes sense) online and she sends out true stories about her group of 5 or so female friends every week, dealing with their complications in love.  She highlights the cultural, religious, & societal reasons why these women, and by extension all women in Saudi Arabia, are facing new difficulties in marrying & settling down.
Rajaa Alsanea's characters are intensely privileged, which she acknowledges, from the Saudi upper class, but they feel like authentic people.  Alsanea argues, quite effectively, that older Saudi women are just as responsible as men, if not moreso, for the oppressive situations in which younger Saudi women are forced into.  Now, it's still a patriarchal structure, to be sure, but the older women become the enforcers, preventing the younger women from discovering love, dressing how they please, or even going outside alone.
Even with all that, it is still a light, quick read.  I absolutely loved it.  It doesn't look like this author has written anything else, but I wish she would.
BEIRUT BLUES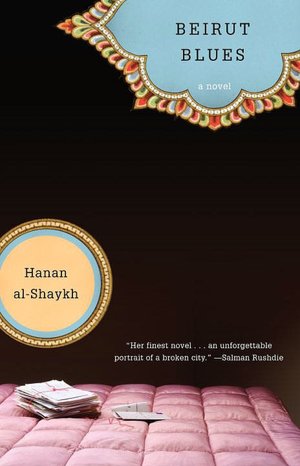 This book destroyed me.  I finished it at a coffee shop in Tallahassee, and had to run out to my car & call my boyfriend before I started crying.  I don't want to say too much, because the unfolding of emotions is so perfect, but this book was devastating (in the best possible way).
The conceit of this novel is that it is made up of letters written by the main character, a woman, I think in her 30s, in Lebanon during the war.  Novels about war can be tedious, or sentimental, but this one steers well clear of those adjectives.
This woman loves her country so much, even when her country is broken.  It's a part of her identity.  This is something that, as an American, I instinctively shy away from in my own life.  I don't want to be trapped by the "american" label, I don't want to be stuck here.  But to this woman, her country is like a mother, a lifegiver, even when it's the stage of so much despair.  It's a beautiful sentiment to read.
- Madame Sharkish